I Was Diagnosed With HIV — Now What? Here Are the Recommended First Steps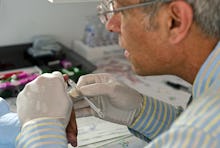 The time following a positive HIV test is likely filled with questions, concerns and fears. Here are some of the essential steps to take just after a diagnosis that will help you get the support and medical care you need. A healthcare professional will figure out the best course of treatment, so finding one you trust and like is a good first step. 
Read: Only 3 Presidential Candidates Decided to Lay Out a Plan to Fight HIV/AIDS
According to Poz, a magazine for the HIV-positive community, "Establishing a relationship with a health care provider is an essential first step for people living with HIV ... As soon as possible after your HIV diagnosis, it's important to see a doctor who specializes in HIV care."
A healthcare professional will work to figure out the best course of antiretroviral therapy, which reduces the amount of the virus in the body and also reduces the risk of passing it on to a partner. According to the Body Pro, an online HIV and AIDS resource, starting an antiretroviral treatment right away is the best course of action. 
According to a 2015 study, "Starting treatment immediately regardless of CD4+ cell count was more beneficial than waiting until the CD4+ cell count dropped," the Body Pro reported.
In addition to figuring out a treatment plan with a healthcare provider, there are a number of steps you can take after a positive diagnosis that can help find a support network and begin to understand what life with HIV can look like. Poz recommends turning to family and friends for support, as well as seeking out a support group specifically for those who are recently diagnosed.
A healthcare professional may also suggest resources for finding access to housing, mental health care and medication management programs. 
One of the most important things to remember about a new HIV diagnosis is that, with the right medical support, people who are HIV-positive can still live long, happy lives. Here is a state-by-state list of hotlines for finding information about HIV.