Ohio Primary 2016: Latest Polls and What to Expect in the Democratic and Republican Races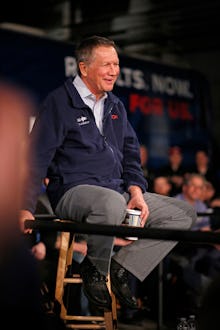 The Buckeye State's primary comes with high stakes on both sides of the aisle, making it one of the most closely watched of the so-called Mega Tuesday contests.
For Ohio Gov. John Kasich, a loss here would end his bid for the Republican presidential nomination — and make it easier for frontrunner Donald Trump to steamroll to the party nod. Meanwhile, Vermont Sen. Bernie Sanders hopes to capitalize on his surprise win in Michigan a week ago to show that he can defeat Democratic frontrunner Hillary Clinton in yet another economically struggling Rust Belt state.
Read more:
Here's a guide to watching the results Tuesday. Polls will close at 7:30 p.m. Eastern.
Republicans
While Ohio is heavy on the white working-class voters who've fueled Trump's political ascent, Kasich has the home-court advantage. According to recent polling, Kasich is a slight favorite to win all 66 delegates, leading Trump 39% to 35% in the RealClearPolitics polling average.
Should Trump lose the state, it would become considerably more difficult for him to win the 1,237 delegates required to secure the nod. And that, in turn, would make a contested convention in Cleveland more likely.
Seeking to thwart Trump — and mindful of polls that showed a virtually impossible climb for his campaign — Florida Sen. Marco Rubio has urged his Ohio supporters to strategically vote for Kasich on Tuesday.
Democrats
Can lightning strike twice for Sanders?
Relentlessly focusing on inequality and global trade, he overcame a double-digit deficit to defeat Clinton in Michigan, and the latest polling shows a similar upset could be in the works. 
Amid sharpened attacks on her past support for free-trade agreements, the populist senator has cut Clinton's lead to single digits. According to RealClearPolitics, Clinton's average lead over Sanders is 51% to 43%.
While that leaves Sanders with a substantial gap to close, it represents a shift away from Clinton, who beat Barack Obama in the state eight years ago and was leading by 30 points in a CNN/ORC poll conducted just two weeks ago.
Unlike the Republican primary, the Democratic contest is not winner-take-all, limiting the traction Sanders would gain from a victory. The state's 143 pledged delegates will be allocated proportionally.