Florida Primary 2016: Latest Polls and What to Expect in the Democratic and GOP Races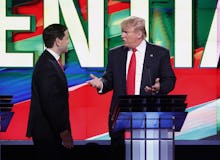 Florida is no stranger to high-drama election battles, and Tuesday promises to bring another.
For home-state Sen. Marco Rubio, the Sunshine State primary may set the sun on his faltering bid for the Republican presidential nomination, with polls showing him badly trailing frontrunner Donald Trump.
Meanwhile, with Democratic frontrunner Hillary Clinton at risk of losing to Vermont Sen. Bernie Sanders in key Midwestern contests on Tuesday, the former secretary of state hopes to notch a landslide victory in Florida — the largest delegate prize of the day.
Read more:
Here's a guide to watching the primary results. Polls close at 7 p.m. Eastern.
Republicans
The winner of the Florida GOP primary collects all 99 of the state's delegates — and anything other than a Trump victory would amount to a stunning upset.
The billionaire businessman, who owns the plush Mar-a-Lago resort in Palm Beach, has led in every single public poll of the state since August. The latest surveys show him with a substantial lead over Rubio, with Trump trouncing him 43% to 27% in the RealClearPolitics average.
While most polls show Rubio in second place, Texas Sen. Ted Cruz is not far behind in the polling average, garnering 18% support. Should he surpass Rubio, Rubio's political prospects in the state would be even further diminished.
With his eyes on the presidency, Rubio opted not to seek a second Senate term this year — so unless he pulls off a near-miracle, he'll be out of a job come January. Last week, CNN reported that some Rubio advisers wanted him to exit the race before Florida's primary, fearful that a crushing loss would badly damage him in a potential future campaign, like the 2018 gubernatorial race.
That advice went unheeded — and since then, Trump's lead in the polls has only grown.
Democrats
The question isn't whether Clinton will win. The question is how large a margin she'll enjoy.
With 214 pledged delegates at stake, Clinton is well-positioned to claim a large share. According to the RealClearPolitics polling average, she leads Sanders 61% to 32%, a margin that's only slightly smaller than her lead at the dawn of the new year.
Keep an eye on whether Sanders makes inroads with the older and Hispanic voters who make up a large chunk of the state's Democratic electorate — and expect Clinton to point to a win here as evidence that she's the best candidate to compete in the crucial battleground state in the fall.