Snapchat Update: Company Reportedly Making Google Glass-Type Eyewear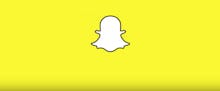 Snapchat may be jumping on the augmented reality bandwagon. A rash of new hires poached from the augmented reality sector suggests that the more-than-just-sexting app may be looking to expand into the world of hardware — namely wearable tech — according to TechCrunch, who also reported that Snapchat quietly acquired Vergence Labs, makers of camera-equipped Epiphany Eyewear, in March 2014 for $15 million. 
Read more: How Snapchat Is Ruining Our Friendships, One Rainbow-Puking Selfie at a Time
The question then becomes why? Why would Snapchat, a smartphone-based app, want to make a Google Glass-like product? How do augmented reality-capable wearables fit with a service that allows a mostly teenaged user base to send and receive photos and videos that automatically delete?
"Sophisticated consumer gadgets might make zero sense for Snapchat at the moment, as their current consumer products include a beach towel, a deck of playing cards and a backpack," TechCrunch's Lucas Matney wrote. "Admittedly, for most people, Snapchat in itself makes zero sense, so this could perhaps be very on-brand for them."
As Gadget360 reported, Snapchat's ears pricked up when Google Glass came into the world, responding with its Vergence Labs buy. Around that time, it also acquired Scan.me for $50 million, tech that allows the creation and scanning of QR codes, which the app used to introduce Snaptags. 
According to Wareable, Snapchat has hired Mark Dixson, part of the team behind Microsoft's HoloLens headset, and Eitan Pilipski, whose professional credits include work on Vuforia AR at Qualcomm. Snapchat already employs one glasses designer, Lauryn Morris, "who previously created designer frames for Michael Kors and mixed reality glasses startup Innovega," Wareable reported, and has been hunting for a "3-D Computer Vision Engineer."
The assembled clues do seem to suggest that Snapchat glasses or a headset could be in the works. After all, Facebook has Oculus VR — Snapchat's got to keep up with the times.