Missouri Primary 2016: Latest Polls and What to Expect in the Democratic and GOP Races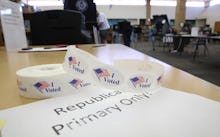 When it comes to Tuesday's presidential primaries, the Show Me State isn't showing its hand just yet.
Limited polling of Missouri voters on both sides of the aisle shows a divided electorate — and a good number of people who are waiting until the last minute to decide.
According to a U.S. Census Bureau analysis of the state's voter demographics, Missouri's median income falls slightly below the national average.
Read more:
More than 80% of Missouri's registered voters are white versus 66.3% nationally, and the electorate is relatively youthful, with 45.6% ages 18 to 44 — a possible advantage for Bernie Sanders on the Democratic side.
Here's a guide to watching the results on Tuesday. Polls close at 8 p.m. Eastern.
Democrats
Hillary Clinton and Sanders were in a dead heat ahead of the voting, according to the latest polls by RealClearPolitics.
A Public Policy Polling survey conducted March 11 and March 12 had the Vermont senator up by a single percentage point over the former secretary of state, 47% to 46%.
Earlier in the month, a Fort Hays State University survey gave Clinton a seven-point advantage over Sanders, 47% to 40% — but with an eight-point margin of error. 
Missouri has 84 delegates for the Democrats. Primary voters can cross party lines, but can only vote in one party's contest on Tuesday.
Republicans
Missouri has 52 delegates at stake on the Republican side, 12 of which are statewide delegates.
According to the state Republican Party, "If a candidate wins 50% + 1 of the votes cast in the March 15 presidential primary, Missouri will be a winner-take-all state and all Missouri delegates will be bound to vote for the winner at the national convention." Votes for candidates who dropped out before Tuesday will not be counted.
If no candidate wins a majority on Tuesday, according to the Missouri GOP, the state's top vote-getter gets 12 delegates. The victor in each congressional district will win five delegates — three for the district and two at large.
Delegates are chosen in post-primary caucuses.
The single poll of the Missouri GOP race posted by RealClearPolitics, conducted March 3 to March 10 by Fort Hays State University, shows Trump in first place at 36% support and Ted Cruz in second with 29% — but the survey has an error margin of seven points.