Ohio Primary 2016: Full Results for Democratic and Republican Races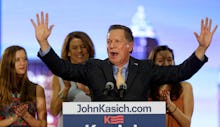 In one of the most important election season stops, Ohio voters hammered the polls Tuesday to choose their presidential candidate, with less objections than in past years.
"It's not encouraged or discouraged," Josh Eck, spokesman for Ohio Secretary of State Jon Husted, told the Columbus Dispatch in regards to switching parties. "A voter is very unlikely to encounter any objection. Nobody in Ohio should be denied a ballot." 
Read more: Ohio Primary 2016: Latest Polls and What to Expect in the Democratic and Republican Races
Coming into the primary, Ohio Gov. John Kasich is leading Republican frontrunner Donald Trump 39% to 35% in the RealClearPolitics polling average. Former Secretary of State Hillary Clinton headed into Ohio with a 51% to 43% lead over Vermont Sen. Bernie Sanders, according to RealClearPolitics.
This post will be continually updated with the latest vote tallies, per the Associated Press.
Democrats
At 8:38 p.m. Eastern, the Democratic race in Ohio was called for Clinton. 
Precincts reporting: 100%
Clinton: 56.5%, 679,266 votes
Sanders: 42.7%, 513,550 votes
Republicans
At 8:54 p.m. Eastern, the Republican race was called for Kasich. 
Precincts reporting: 100%
Kasich: 46.8%, 956,859 votes
Trump: 35.6%, 727,832 votes
Cruz: 13.1%, 267,851 votes
Rubio: 2.9%, 59,345 votes