Michelle Obama Surprises Elementary School Kids and It's Adorable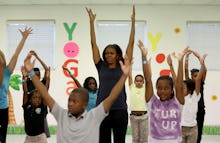 On Feb. 25, First Lady Michelle Obama paid a surprise visit to two D.C. elementary schools that have integrated gardening into the curriculum.
The kids' reactions are absolutely priceless. 
Obama visited Watkins Elementary School and John Burroughs to garden and cook with them as part of her Let's Move campaign. 
"You guys have this amazing garden and I'm so proud of you and I want the world to see all the great things you're doing," Obama said to the kids at Watkins Elementary School when she walked in. 
"I've never made tortillas like this before!" Obama said to a student at John Burroughs while they rolled dough together. "I've never seen you before!" the kid said. 
 Gushing.
Watch the full visit:
Read more: Beyoncé Said Being a Mom Is Her Greatest Accomplishment