Twitter Account Promised to Organize a Pro-Donald Trump Militia for "Safety and Security"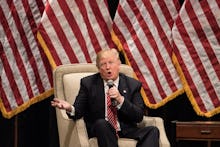 Some of Donald Trump's fans may have banded together to form a protective militia.
Reports on Raw Story and Russia Today (the latter a state-funded Russian propaganda outlet) cited the creation of a Twitter account called "Lion's Guard," which sought to organize members to provide uniformed security at Trump events.
On Friday, a Trump rally in Chicago was shut down after clashes between supporters and protesters, and on Saturday a man attempted to storm the stage at a speech in Dayton, Ohio.
Read more: Donald Trump Sent a Thinly Veiled Threat to Bernie Sanders in This Viral Tweet
The account is now inactive, and a screenshot by Russia Today shows a tweet explaining the move as a response to threats of violence. But during its brief life, the account's creators stated their intention was "protecting the safety and security of Trump rallies and supporters from violent Far-Left agitators." The account also solicited suggestions for uniforms and said "we are unarmed, but willing to to forcefully protect people if need be."
The candidate's racially and ethnically charged statements have prompted a string of violent outbreaks at Trump rallies — so much so that authorities in Cumberland County, North Carolina, were rumored to have considered charging Trump with inciting a riot. (Cumberland County Sheriff's Office attorney Ronnie Mitchell told WRAL the rumor was untrue but said authorities were "concerned about a number of things in that speech and "activity associated" with it.)
On Monday — one day after offering to pay the legal fees of a man accused of sucker-punching a protester — Trump told CNN of his rallies, "There's no violence, nobody's been hurt." Over the weekend, the candidate called the demonstrators "thugs," and fellow candidate John Kasich is reportedly compiling a list of all the times Trump has urged supporters to rough up protesters.
The Southern Poverty Law Center, a nonprofit organization that tracks far-right extremist organizations, declined to comment for this story, saying they were presently unaware of any group called the Lion's Guard.