A Paralyzed Groom Was Able to Stand at His Wedding Thanks to This Breakthrough Procedure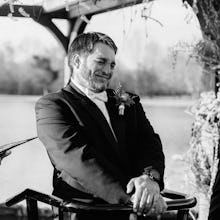 On Saturday, Kent Stephenson achieved his goal of standing during his wedding vows. 
Stephenson, a former Pro-Am Motocross racer, has been paralyzed from the chest down since a devastating 2009 accident. But recently, thanks to a pioneering new treatment called epidural stimulation, Stephenson has been able to regain some voluntary motion. With the aid of a supportive frame, he's even been able to stand.
Epidural stimulation has so far been tested successfully on four patients with paralysis, including Stephenson. The treatment involves implanting a stimulating device over the lower part of the spinal cord, which awakens nerve cells and transmits signals that would typically come from the brain. The project, funded in part by the Christopher & Dana Reeve Foundation, is currently seeking funding to test epidural stimulation on 36 more patients.
"I got back a part of me that I was told was taken from me forever," Stephenson told Mic in the weeks leading up to his wedding. Standing during the ceremony would be a celebration of the abilities Stephenson was once told he'd never get back.
The wedding took place on March 12 at Elk Meadow Game Ranch in De Kalb, Texas. The professional photos are still being edited, but Mic obtained a few heartwarming snapshots.
Here's Stephenson waiting for now-wife Misti to join him at the altar. Prior to the wedding, Stephenson said he'd need extra support for his knees — "they're probably going to be a little weak" upon seeing his beautiful bride, he said.
The day was full of emotion for the bride and groom.
Stephenson was able to turn and face Misti during their vows.
After the ceremony, the newlyweds rode back down the aisle in style.
And, just in case you're not already a pile of mush, here's a video of the couple's first dance.
Congratulations, Kent and Misti!