Justin Bieber's New Song "Insecurities" Debuted on Tour, Watch a Live Acoustic Version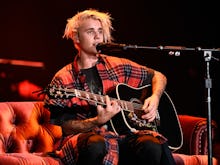 Justin Bieber is currently on an expansive tour for his 2015 album, Purpose, which will take him across the world. However, in between all the globetrotting, Bieber found time to create new music. The pop star premiered a new track on stage in Portland, Oregon Sunday night, which is reportedly called "Insecurities." 
The track is, as the title suggests, about the singer's love life and wanting to help fix a woman's insecurities. He had previously shared the song with GQ writer Caity Weaver in a profile of the artist — and she admitted in the story that she liked the song. "He asks me if I like it," Weaver wrote. "I do like it. The hook — 'Oh, oh...oh, oh...fix all of your insecurities' — rattles around my head for days."
Read more: Justin Bieber's Brit Awards Performance Was Literally Fire (and It Scared Adele)
Some fans at the Portland concert were able to film a few snippets of the performance, which you can check out below. Hopefully, this indicates "Insecurities" will receive an official released from Bieber in the near future.