The 'Unbreakable Kimmy Schmidt' Season 2 Trailer Is Here — Watch Now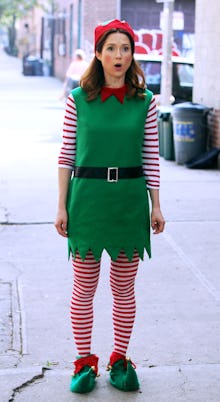 They alive, dammit! The Netflix original comedy Unbreakable Kimmy Schmidt is returning for its second season on April 15, and, according to the official season two trailer, released on Monday, there's plenty more dark wackiness in store for the clueless main character and her gang of New York City weirdos.
Read: 'Unbreakable Kimmy Schmidt' Season 2 Premiere Date, Cast, Plot and What We Know So Far
If the scenes in the trailer are any indication, season two will tackle dating, drugs, even more Times Square costumed characters, personal branding and adorable animal internet videos.
The first season of Unbreakable Kimmy Schmidt followed Ellie Kemper as the titular main character, recently freed from a bunker where she was being held captive by a charismatic cult leader played by Jon Hamm. Kimmy moved to New York City, where she builds a small but eccentric community of friends and supporters.
In a 2015 interview with Entertainment Weekly, Robert Carlock, who co-created the show with Tina Fey, promised that season two would feature the same bizarre humor as the first. "I think in keeping with Orange Is the New Black, there'll be a lot more shower sex," Carlock said. "But I don't think it's going to change that much." We can't wait.