The Subversive, Sexy and Sexist History of Women's Leather Jackets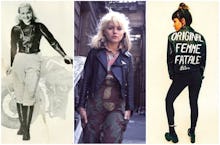 At the Academy Awards, women in gowns is standard, and 2016's affair brought more of the same. Cate glowed in ice blue. Alicia in bright yellow. Charlize in red. But one woman dared to be different. One woman dared to be wild. 
Costume designer Jenny Beavan showed up to the formal affair in a black leather jacket, complete with a skull and flames bedazzled on the back. 
Immediately, she was a fashion hero to some, and faced criticism from others. When Beavan took the stage to accept her Oscar for best costume design for Mad Max: Fury Road, someone noticed that a group of men were looking rather dour and scanning her up and down when she went up to accept her award. A Vine was born that has been viewed more than 50 million times. 
Apparently, these older dudes were not impressed. Perhaps it's because they're not used to seeing an older woman in a leather jacket — or many women in general. 
Leather jackets are a regular feature in women's closets now. But think back in history, and images of a swoon-worthy Marlon Brando or James Dean probably pop into your head. Since the 1950s, along with blue jeans, leather jackets were synonyms with rebellion, danger, delinquency and, most importantly, dudes. 
So what about the women? Well, that's where it gets complicated.
1910s-1940s: The leather jacket's origin is a total sausage fest. 
Before we get to the amazing stuff about women, we have to run through men, masculinity and what the two have to do with the creation of the leather jacket.
During World War I, German pilots were likely the first to be seen wearing leather jackets. At the time, they were styled in a more "bomber jacket" silhouette, with big, round arms and a thick collar. 
As the years ticked on, a new leather jacket shape rose in popularity, thanks to Harley-Davidson. In 1928, raincoat maker Irving Schott created a motorcycle jacket in black leather, with signature pockets and zippers across the front, that was sold at a Harley-Davidson distributor in Long Island. Back then, it cost $5.50. (Heartbreaking, we know.) 
Until the end of the 1940s, the leather jacket was still most often associated with the military, with the U.S. Army actually standardizing a "leather flight jacket" during World War II. Once the war was over, however, things started to get really interesting. 
1950s: Leather jackets are for bad girls only. 
Although Harley-Davidson had been recognizing women participating in the pastime of motorcycling since 1912, it took the company quite a while to create some lady-friendly outerwear.
According to the Harley-Davidson Museum, a leather jacket fit for a queen finally came in the 1954 Accessories Catalog, where it was called the "Ladies Companion Jacket." Currently, it's better known as the "Cycle Queen" jacket, which is cute and fun until you realize what that exactly means. From the original 1954 catalog: "Fashioned along the same smart lines of the men's jacket but tailored to make the jacket definitely feminine."
Meanwhile, men in this era like Brando or Dean were thriving in a sea of roomy (and heavily pocketed) leather jackets that would make them into icons. 
For the woman who dared to wear a leather jacket in this era, she basically had to be a badass. Look no further than Sandy in Grease, post-makeover. The 1978 movie was set in the '50s and offers a prime example of exactly the kind of rulebreaker a woman would be to wear one.
1960s: Women's leather jackets go more mainstream, thanks to mod fashion. 
During the 1960s, the leather jacket was nearly synonymous with cool guys like the Beatles and Elvis Presley. But you know who was actually cooler? All those teenage girls that looked at those greasy-haired goons and knew that they could look even better. 
Following the wave of 1950s biker films, young women couldn't help but be inspired themselves. Also helping was the British "mod" subculture. One of the real pillars of the new mod fashion era was rejecting existing sartorial ideas of how girls and boys should dress. Androgyny was in, which meant pants, a slim fit and leather jackets were for everyone, as was a color palette of black, white and more black.
From the looks of it, some of these young people were even trying to emulate Brando from head-to-toe (but instead of motorcycles, they got Vespas — it was England, after all). 
1970s: The women of rock 'n' roll make the jacket sexier than ever.  
In the 1970s, leather jackets were most commonly seen on the backs of men like Fonzie or members of the Hells Angels, who were varying degrees of cool and hugely dangerous. But when women wore leather jackets, the subversive nature of them proudly wearing this tough guy look was seen as sexy.
By the end of the decade, female members of Joan Jett & the Blackhearts and Blondie (Hello, Debbie Harry) were regularly photographed wearing pin-covered leather jackets to signal that they were both tough and cooler than you will ever be. (And we can't really argue with that.) 
1980s: The jacket doesn't define the girl, the girl defines the jacket.
But in the 1980s, the jacket went from merely signifying "sexy" or "badass" to being a staple for anyone and every woman, from a pop star to a soul songstress to a punk kid. The jacket couldn't define the woman, but the woman could definitely define the jacket. 
In the image above, Madonna is prepping for her 1986 music video for "Papa Don't Preach," and even before, earlier in the decade, powerful women in music like Tina Turner had started favoring the leather jacket as well. 
This era also saw the rise of hardcore punk, which had girls and guys across the pond tearing their jeans and sliding safety pins into their leather jackets (and cheeks). Similar to the mod era, punks were interested in merely expressing themselves sartorially without really caring about gender. For girls, that meant Dr. Martens boots, huge jeans and leather jackets — similar to the boys.
1990s: LL Cool J: (All) Ladies Love Cool (Leather) Jackets.  
Feel free to blame Madonna, but by the time the 1990s rolled around, leather wasn't so edgy or rebellious. Instead, it was everywhere — in music videos, popular TV programming, late-night talk shows, movies and more. On men, leather jackets usually signified either being a comedian on Saturday Night Live, a metalhead or a pouty fuccboi. (We're looking at you, James on Twin Peaks.) 
But on women, rather than defining them in any way, the jacket was just another item of clothing that they could wear without much of a stir. You could basically pick one up at your local department store. In a sense, it lost a bit of its power. However, there were women during this era that made the leather jacket they wore quite iconic. For example: Cher's legendary look in the 1989 music video for "Turn Back Time." The jacket's rise in popularity probably had a lot to do with it as well. 
2000s: Fashion partially neuters the leather jacket of its edge.
Since the 1950s, part of the allure of leather jackets was that they begged to be roughed up and lived in, as the symbol of a life lived on the edge. But by the 2000s, high-end fashion designers like Jean Paul Gaultier and Gucci were starting to make leather jackets something they never were before: precious. 
Once designers got wind of the look, part of the jacket's grunginess, edge and originality was basically lost forever. Women were forced to either buy into the designer fad or ferociously scan thrift stores for an authentically lived-in jacket of their own. During this time, it became harder to find a cheap, cool-looking leather jacket sans a designer label and a $1,000-plus price tag. 
2010s: Women find new ways to still look cool AF in leather.
But not all was lost. Apparent in the outrage and glee of Beavan's Oscar night look, there are still ways to make the leather jacket edgy again — and cause a stir while doing so.
Given the years and years of men being largely associated with black leather jackets, it's no wonder women came and made their own distinctly outspoken mark on this staple. Among them: Elizabeth Ilsley, an artist based in the U.K. who's recently started turning leather jackets into her girl-power-tastic canvases by painting sayings like "Girls Girls Girls" and "I shave my legs for you" on the back of them.
"Once you find your leather biker jacket you have it for life, its a staple piece in any wardrobe and serves as armor on top of any ensemble," Ilsley told Mic. "I have great responses from women because the jackets reflect honest [and] true statements about being a woman, therefore its easy to relate to the jackets and me to them."
So while the leather jacket has now become as much of a female staple as it has male, there are still ways for women to make their mark — and certainly time for us to contribute to its rebellious history too.