Newest Anti-Trump Ad Shows Women Reciting His Most Sexist Quotes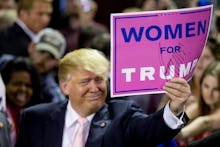 Donald Trump's got a way with words when it comes to women — and it's earned him a fresh attack from a super PAC.
The Republican presidential frontrunner gets his own misogyny thrown back in his face in a new spot that the Our Principles super PAC is airing in critical states ahead of Tuesday's primaries. 
Read more: Donald Trump in GOP Debate: "A Lot" of Muslims Hate the US
The women in the 60-second spot run through some of Trump's greatest hits, including him having said of former GOP foe Carly Fiorina, "Look at that face. Would anyone vote for that?"
One by one, they reel off Trump's woman-bashing remarks.
"Bimbo."
"Dog."
"Fat pig."
Another woman quotes Trump on what he estimated as his back-in-the-day odds of bedding Princess Diana, "She had the height. She had the beauty. ... She was crazy — but these are minor details."
Our Principles spokesman Tim Miller told Mic via email, "We wanted to highlight in a stark fashion both how grotesque Donald Trump's treatment of women has been and just how unelectable his quotes make him running in a general election where he already has historically low poll ratings with women in particular."
Miller said Our Principles is spending $500,000 to air the ad on national cable and via digital platforms in Ohio, Florida, Illinois and Missouri. The group's founder is Katie Packer, who was the 2012 deputy campaign manager for another Trump critic, Mitt Romney.
The latest spot follows a commercial paid for by American Future Fund Political Action that let Trump — and the electorate — relive some of the frontrunner's foulest mouthings.
At a Monday rally in Tampa, Trump said he's been the target of an incredible number of negative ads, but "you fight it." 
Watch the full spot below: