Illinois Primary 2016: Latest Polls and What to Expect in Democratic and Republican Races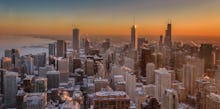 Illinois is one of fives states holding nominating contests for the Democratic and Republican presidential candidates Tuesday, and it's teeming with delegates that will be crucial for candidates in both races.
Political news out of the Prairie State has been defined by upheaval lately, with thousands of protesters in Chicago shutting down a rally for Republican frontrunner Donald Trump on Friday in one of the tensest moments of the campaign.
Read more:
Here's a guide for what to watch for as Illinois voters head to the polls on Tuesday. Polls close at 8 p.m. Eastern.
Democrats
On the Democratic side of the aisle, 156 delegates are at stake and they're awarded proportionally. 
The conventional wisdom once held that Illinois would be a landslide for Hillary Clinton — she was born and raised there, Chicago is a stronghold for Democratic establishment politics, many of the labor unions who back her have sway in the region and she was leading her rival in the polls for quite some time.
But lately Sanders has leapt in the polls, at least one of which has him leading her slightly. A CBS News/YouGov poll released over the weekend has Sanders at 48% and Clinton at 46% among Democratic primary voters. The RealClearPolitics polling average shows Clinton with a narrow 2-point margin:
Just as last week Sanders snatched Michigan, a state that was assumed to be an easy victory for Clinton, he could do so again tomorrow in Illinois. Michigan and Illinois are both Midwestern states that have been transformed by deindustrialization and have electorates that are likely particularly receptive to Sanders' protectionist stance on trade.
And while past nominating contests suggest that Sanders will excel in the more rural and whiter parts of the state and Clinton in the more urban and racially diverse ones, there's reason to think that Clinton might not be able to lay claim to those parts of the electorate with total ease. 
The Democratic Party establishment — which Clinton represents in this race — has been reeling from a crisis in authority in the state after Chicago Mayor Rahm Emanuel attempted to prevent the release of a video showing police killing an unarmed black teenager last year. And combined with the energy behind the protests against the Trump rally on Friday — an effort that was predominantly composed of people of color — the way people mobilize for a political outsider like Sen. Bernie Sanders could defy assumed trends, as it did in Michigan.
Republicans
For Republicans, Trump and Ted Cruz appear to be locked in a tight race for the 69 delegates at stake, most of which are awarded at the district level.
The CBS/YouGov poll released on Sunday showed Trump with the support of 38% of Republican primary voters in the state, Cruz with 34%, Kasich at 16% and Rubio with just 11%. The RealClearPolitics average shows Trump with a slightly higher 7-point lead: 
Trump's Illinois operation is a bit of a mess — last week the state's campaign director was pushed aside and a new team is desperately putting together a final push to mobilize voters. That ground game will be essential to making sure his supporters come out, a significant portion of which say are interested in this election primarily because he's running. In the meantime, Cruz is touring towns across the state at a breakneck pace.
Another variable that makes the outcome of the Republican race particularly difficult to predict is how primary voters will react to news of all the chaos last weekend — which included not only Trump's Chicago rally being shut down by protesters (and some fist fights in the aftermath of it) but also the candidate's suggestion that his supporters may retaliate and clash with Sanders'. As Trump continues to hint at violence as an acceptable form of political engagement and grows ever more controversial, primary voters could end up voting in higher numbers against him — or for him.