Florida Primary 2016: Full Results for Democratic and Republican Races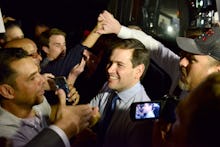 If Marco Rubio loses his home state of Florida, there is a strong chance that he will be ending his presidential campaign there. "I believe with all my heart that the winner of the Florida primary next Tuesday will be the nominee of the Republican Party," the Florida governor told supporters at a rally last Tuesday.
Read more: Florida Primary 2016: Latest Polls and What to Expect in the Democratic and GOP Races
However, Donald Trump has maintained a strong double-digit lead over Rubio — 43% to 27% in the RealClearPolitics average of the latest polls.
On the Democratic side, former Secretary of State Hillary Clinton has a large lead in Florida over Vermont Sen. Bernie Sanders: 61% to 32%, according to the RealClearPolitics polling average.
This post will be continually updated with the latest vote tallies, per the Associated Press.
Democrats
At 8 p.m., the AP projected Clinton as the winner of the Florida primary.
Precincts reporting: 99%
Clinton:  64.5%, 1,094,289 votes
Sanders: 33.3%, 564,564 votes
Republicans
At 8 p.m., the AP projected Trump as the winner of the Florida primary.
Precincts reporting: 99%
Trump: 45.8%, 1,075,094 votes
Rubio: 27.0%, 635,024 votes
Cruz: 17.1%, 402,479 votes
Kasich: 6.8%, 158,955 votes