7 Ways Dating Has Changed for Millennials, For Better or For Worse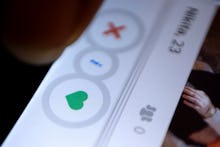 Whether you're looking for a fling or want something more serious, the advent of technology has streamlined the dating scene for millennials. Older generations weren't afforded the same conveniences such as dating apps and websites. With that said, they also didn't have to deal with the inadvertent problems that result from these technological innovations. Here are seven ways technology has changed dating rituals for millennials – for better or for worse.
Read more: How to Enjoy the Benefits of Being Single — When You're in a Relationship
1. Millennials have plenty of options for dating apps...
To name a few: Tinder, OkCupid, Match, Friendsy, Coffee Meets Bagel, Happn, How About We, Plenty of Fish, DateMySchool, Bumble, Hinge, etc. 
2. ...but perhaps too many options?
The "paradox of choice" is the irony of being presented with various options, but choosing none out of indifference or apathy.
3. Dating profiles have made it simpler to narrow down your choices.
Most dating apps have made filtering your preferences pretty simple, from age to interests. Contact those who you find compelling, ignore those who don't, and block those who don't get the message and/or are being abusive.
4. Dating profiles have also made first date questions nearly obsolete.
Presuming both of you give put minimal effort into filling out all the fields in your profile, standard conversation starters like, "What are your interests?" or, "What's your favorite band?" or, "Where did you go to school?" have probably already been answered, over-read and pressed for subtext — way before the two of you even meet for your first date. Same goes for any public photo on your Facebook, Twitter or Instagram accounts.
5. Technology has made it simpler to communicate with potential or repeat dates...
Long term relationships or not, texting has made it simpler to keep in touch in case a busy schedule impedes any potential date — a phone call doesn't have the same brevity.
6. ...but our reliance on technology has stunted our ability to communicate in person.
Since the majority of millennials communicate via a screen and keyboard, many aren't well-conditioned to communicating one-on-one, in-person and while maintaining eye contact. 
7. But Netflix!
In the end, technology can bring people together, especially if both of you have a penchant for binge-watching TV. 
A 2014 study that analyzed how technology impacted couple seemed to indicate that watching TV together "enhance[d] couple connection rather than create a divide" because the activity contributed to a "sense of safety in couples."