Taylor Swift Music Videos Draw More Viewers Than Most Network TV Shows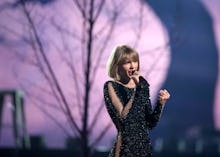 It's not a surprise that music videos draw large numbers of viewers — particularly videos by the biggest artists in the industry. For instance, Justin Bieber's "Baby" has the most dislikes of any YouTube video, with over 5 million, and Rebecca Black's much-maligned "Friday" comes in third. 
However, Nielsen exposed the full scope of music video popularity through research commissioned by Vevo, which indicated that Grammy album of the year winner Taylor Swift is beating out network television when it comes to viewers. 
Read more: Taylor Swift's Music Won Her Album of the Year – Here Are the People Behind '1989'
Broadly, the most popular artists — like Swift — have music video catalogues that can attract audience numbers similar to the majority of network series. Most notably, the pop singer's "Bad Blood" music video garnered 18 million views in the first week it was released. In contrast to network shows, it beat out every single one in that span — save for the highly popular NCIS: Los Angeles. 
Similarly, other popular artists have notched notable views for their videos in the week of their release. Drake and Rihanna both had music videos reach around 6 million views — "Hotline Bling" and "Bitch Better Have My Money," respectively. 
However, Vevo VP of research Andrea Zapata said the study wasn't to indicate that network TV is dying. Rather, audience interests are changing as the production process and artistic creativity for music videos continues to expand. 
"The audiences are shifting," Zapata said, according to Variety. "We are in a shifting landscape."
h/t Variety