Forever 21 Pulls "Maybe No" Tee After Being Accused of Promoting Rape Culture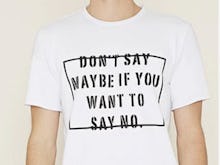 Clothing retailer Forever 21 may need a lesson in what constitutes consent. On Monday, the store issued a public apology and pulled the men's "Maybe No Graphic Tee" — which reads "Don't say maybe if you want to say no" — from its online shelves after customers accused the store of promoting rape culture through victim blaming. The shirt, which is now listed as "sold out," was on sale for $19.90. 
"Forever 21 strives to exemplify the highest ethical standards and takes feedback and product concerns very seriously," the company said in a statement provided to Business Insider. "With regards to the t-shirt in question, upon receiving feedback from our customers, we took immediate action to have it removed from our website. We sincerely apologize to anyone who was offended by the product."
Read more: Twitter Is Pretty Pissed Off About This "Rape Culture" T-Shirt
This isn't the first time the clothing store has been accused of selling offensive merchandise. On Twitter, consumers have called shirts with slogans like "My girlfriend is out of town" for men and "Smile please" for women offensive. Elsewhere, shoppers have accused Forever 21 of cultural appropriation.
On Monday, users on Twitter were eager to chime in. "Maybe it's them saying 'don't feel like you have to say maybe, you have the right to say no,'" wrote one user on Twitter. "Does #Forever21 support #rape culture??" asked another. 
One tweet commenting on the debacle came from Project Consent, a not-for-profit, volunteer-based campaign that aims to "combat and deconstruct rape culture by raising awareness of the harmful way with which it is regarded in society, educating our audience about the disparity of discussion of sexual assault and promoting positive dialogue about the importance of consent."
"Hey @Forever21, we think you should #StopVictimBlaming and pull this shirt from your stores," Project Consent tweeted. 
For good measure, and for perhaps a bit of perspective amid the drama, here's a helpful infographic shared to Project Consent's Twitter that explains the weightiness of making light of sexual consent.