Rihanna Reportedly Rented Out an Entire Hotel Floor So She Could Smoke Weed in Peace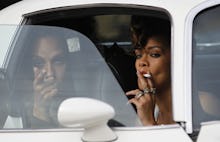 It looks like Rihanna managed to acquire her money back from whoever stole it in the first place, and she's spending it handsomely — on weed and hotel rooms. The Barbadian-born singer kicked off the beginning of her Anti World Tour over the weekend, when she reportedly rented out an entire floor of her Jacksonville, Florida, hotel in order to smoke her pot in peace and try on her extensive wardrobe in privacy. 
The United Kingdom's tabloid gossip site Daily Star reported Monday Rihanna enjoyed the comfort of an entire hotel floor, claiming a source told the publication, "Rihanna rented out the entire fourth floor during her stay so that people couldn't complain about the smell if she smoked — if they did, she offered to pay for their room."
Read more: Rihanna's 'Anti' Defies Every Expectation of What a Rihanna Album Should Be
"Her wardrobe also took up a lot of space, she booked out a whole master suite so she could try her tour outfits on easily without being disturbed," the source continued, according to Daily Star. 
By the looks of it, Rihanna appeared to have been accompanied by an entire team as she prepared for the first night of her world tour. It certainly takes a village to ready a pop star:
It's unclear whether these are just typical Rihanna rumors (which her loyal "Navy" fanbase will certainly live for), but it wouldn't be the first time a celeb rented out an entire floor of a hotel room. In fact, Rihanna's fellow Roc Nation buddies Kanye West and Jay Z reportedly rented out an entire floor of the Mercer hotel in 2011 in order to record the accompanying music video for "Watch The Throne," Complex reported at the time.
For what it's worth, while this all may very well be fictional, we can't imagine Rihanna living on the road in any lesser fashion. Back in 2012, Rihanna toured on a jet plane with an accompanying 150 journalists, who reportedly had a much worse off experience than the hitmaker. While Rihanna couldn't even be found for so much as a quick interview, the rest of the flock were forced to sit in coach and suffer other near-torturous conditions. 
Oh RiRi. If only all of us could work, work, work, work, work under such conditions.