'Xena' Reboot 2016: Xena and Gabrielle Will Finally Be Together, for Realsies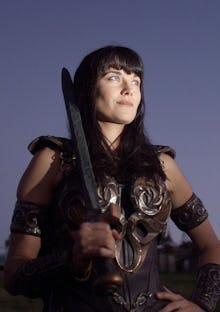 The '90s fantasy action series Xena: Warrior Princess, which ran from 1995 to 2001, developed a cult following — and many fans suspected that Xena, played by Lucy Lawless and her BFF/sidekick Gabrielle, played by Renee O'Connor, were more than just friends, although the two were never officially together in the show. 
But with a reboot of the series on the horizon, it seems that Xena's sexual orientation will finally be explored, and she and Gabrielle may finally have a chance to actually have a romantic relationship.
Read: Emma Watson Just Took a Small Stand for Female Sexuality
Javier Grillo-Marxuach, who is reportedly signed-on to write the pilot for a Xena reboot from NBC, wrote on Tumblr, "There is no reason to bring back Xena if it is not there for the purpose of fully exploring a relationship that could only be shown subtextually in first-run syndication in the 1990s. It will also express my view of the world — which is only further informed by what is happening right now — and is not too difficult to know what that is if you do some digging," reported Vanity Fair on Sunday.
The Xena reboot has been rumored since at least August, when NBC Entertainment chairman Bob Greenblatt told the Hollywood Reporter "Yes, we're in the early stages of developing a new take on Xena."
So far, it's unclear whether or not Lawless and O'Connor will reprise their roles as Xena and Gabrielle, but for the sake of all the devoted shippers out there, we hope they do.