Missouri Primary 2016: Full Results for Democratic and Republican Races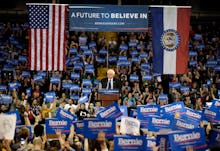 Missouri voters cast their ballots today in the state's presidential primaries. Going into the contest, national Republican frontrunner Donald Trump was up an average seven percentage points, followed by Ted Cruz, Marco Rubio and John Kasich in descending order. Hillary Clinton and Bernie Sanders were closely ranked going into the vote.
The parties do things differently in the Show-Me State, the GOP holding a semi-winner-take-all primary while the Democrats allocate delegates proportionally, in keeping with nationwide procedure for the party's primaries.
Read more: Missouri Primary 2016: Latest Polls and What to Expect in the Democratic and GOP Races
Missouri is one of five states that held primaries on March 15. The others were Florida, with 246 Democratic and 99 Republican delegates; Illinois, with 182 Democratic and 69 Republican delegates; North Carolina, with 121 Democratic and 72 Republican delegates; and Ohio, with 159 Democratic and 66 Republican delegates. Missouri has 84 Democratic and 52 Republican delegates.
Missouri's polls are open from 6 a.m. to 7 p.m. Central. 
This post will be continually updated with the latest vote tallies, per the Associated Press.
Democrats
Precincts reporting: 99%
Clinton: 49.6%, 310,602 votes
Sanders: 49.4%, 309,071 votes
Republicans
Precincts reporting: 98%
Trump: 40.8%, 382,093 votes
Cruz: 40.6%, 380,367 votes
Kasich: 10.1%, 94,533 votes
Rubio: 6.1%, 57,066 votes