Michelle Obama's SXSW Keynote Will Feature Queen Latifah and Missy Elliott — Get Hyped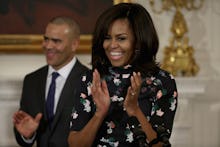 After President Barack Obama delivered a keynote on the role of technology in civil engagement at SXSW, first lady Michelle Obama will make a livestreamed, keynote appearance of her own at the festival — though with a different subject matter. On Wednesday, the first lady will discuss her Let Girls Learn initiative — partnered with Peace Corps — which encourages girls from around the world to stay in school. 
During the speech, she'll be joined by the likes of rapper Missy Elliott, Queen Latifah, songwriter Diane Warren and actress/activist Sophia Bush, according to Variety. While Latifah will moderate the session, it's unclear what the rest of the guests will do, though Halle and Chloe Bailey will open the presentation with a live music performance. 
Read more: At South by Southwest, Obama Calls on Tech Leaders to Make Online Voting a Reality
The first lady's keynote will begin at 11 a.m. Central time, and will be streamed online through AOL's Makers website — a digital initiative focused on female empowerment.
The president's keynote from Friday, meanwhile, was heavily focused on the role of technology — most notably, how an online voting platform would likely increase voter participation. "It is much easier to order pizza or a trip than it is for you to exercise the single most important task in a democracy, and that's to select who's going to represent you in government," Obama said. 
h/t Variety