North Carolina Primary 2016: Latest Polls and What to Expect in Democratic and GOP Races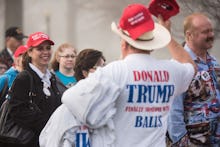 Donald Trump appears poised to run away with the Tar Heel State in the run-up to Tuesday's primaries, obliterating his closest GOP rival, Texas Sen. Ted Cruz, by double-digit margins in all the latest polls.
The rout looks to be potentially even bigger on the Democratic side: The RealClearPolitics polling average shows Hillary Clinton with a near-insurmountable 24-point lead over rival Vermont Sen. Bernie Sanders. 
Read more:
Notably, the primary marks the first time North Carolinians will cast ballots under a set of new voter ID requirements. 
Here's a guide to watching the results on Tuesday. Polls close at 7:30 p.m.
Democrats
North Carolina — the state where President Barack Obama accepted the party's 2012 nomination for re-election — will award 107 delegates, allocated proportionally. 
With Sanders poised to possibly make some news in battleground Ohio and even Clinton's former home state of Illinois, North Carolina could provide the Clinton campaign a much-welcomed cushion in her quest for the nomination.
Clinton should also do well in the state given North Carolina's large African-American voting population. About 21% of the population is black, compared to 12.5% of the country as a whole, according to census data. Clinton walloped Sanders in the South Carolina primary, particularly among African-American voters who have been her strongest base of support thus far.
Republicans
The GOP has 72 delegates at stake Tuesday in North Carolina. These delegates will be rewarded proportionally, unlike delegates in Florida and Ohio, which hold winner-take-all contests on Tuesday.
Fayetteville, North Carolina, will be remembered in the annals of the topsy-turvy 2016 election as one of the places where Donald Trump rallies really got out of control.
Last week, video cameras captured the shocking image of a Trump supporter sucker-punching a black demonstrator who was being walked out of the Wednesday event.
The RealClearPolitics average show Trump up by about 12 points, followed by Cruz in second and with John Kasich and Marco Rubio barely on the map.