5 Celebrity HIV/AIDs Advocates Fighting for an End to the Disease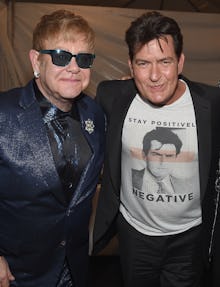 When Charlie Sheen announced his HIV-positive status in November, the news translated to an unprecedented spike in searches surrounding the virus and a huge jump in sales for purveyors of at-home STD tests, STDCheck.com. Sheen speaking out about having HIV made a measurable impact on awareness, but he's not the only celebrity who's working to educate the country about HIV/AIDS.
Read more: The Truths We Need to Remember to End Discrimination Against People With HIV and AIDS
The list of people who use their fame and fortune to fund HIV/AIDS initiatives is, thankfully, long — here are five of those celebs who have made eradicating the condition a top priority.
Magic Johnson
In 1992, basketball star Magic Johnson told the world he was HIV-positive, marking the beginning of a career in AIDS activism. According to Ebony, he helped get the at-home HIV test, OraQuick, its FDA approval and has worked to educate people about safe sex and HIV/AIDS prevention. His Magic Johnson Foundation promotes awareness in schools, issues grants to fund HIV/AIDS education, prevention and treatment initiatives and holds free testing events every year.
Elton John
The Elton John AIDS Foundation, founded by the artist in 1992, works to fight HIV/AIDS globally by funding programs that help eliminate the "pain - whether physical, emotional or financial - of those living with, affected by or at risk" for the conditions. The EJAF has served some 4.5 million people since 2010 and provided HIV tests to an estimate 55,000 young people in sub-Saharan Africa in 2015 alone. Celebrity patrons include Annie Lennox, George Michael, David and Victoria Beckham, Emma Thompson and Elizabeth Hurley. His annual EJAF Oscar party raised over $6.2 million in 2016.
Bono
In 2006, Bono founded Product (RED) , a division of his ONE: The Campaign to Make Poverty History, with Bobby Shriver. The goal of (RED) is to secure funds via brand relationships that can help create an AIDS-free generation by 2020; they plan to achieve it by providing anti-retroviral treatment to those who need it. The effort has raised some $350 million since its inception. Bono has lobbied lawmakers to fund HIV/AIDS initiatives and worked with celebrities, presidents and diplomats to raise awareness for both.
Madonna
Madonna's HIV/AIDS activism began in the 1980s — she appeared in an AIDS PSA in 1988, and when did a dance marathon with her HIV-positive dance teacher in 1989 to raise money for the AIDS Project L.A. She's the founder of Raising Malawi, which promotes HIV/AIDS awareness, education and prevention within the country.
Alicia Keys
In 2013, Alicia Keys partnered with Greater Than AIDS and Black AIDS Institute to start Empowered, a campaign designed to promote HIV awareness among women. She is also co-founder of Keep a Child Alive, an organization that works to bring medical treatment to HIV-positive children and their families in developing countries.