German 'Men's Health' Magazine Will Have Trans Model on Cover — Making History in Europe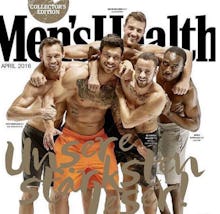 Pretty much every single issue of Men's Health has a hot ripped dude on the cover, but one of the cover models on the April issue of the German edition of the magazine just happens to be making history. Benjamin Melzer, a fitness model who will appear on the cover of next month's issue, is the first trans man to land the cover of a men's fitness magazine in Europe.
Read: 9 Things Everyone Needs to Stop Saying About Trans People Immediately
"When you are born this way, you have no choice. So many people are hiding who they truly are, so I really wanted to give the trans community visibility. Show that we're just normal people," Melzer told the Telegraph last week.
Melzer, a 29-year-old fitness model, was chosen for the cover by German Men's Health readers, through an online contest. Melzer, who grew up in a small town outside of Dusseldorf, Germany, became more seriously interested in fitness after his gender-confirming surgeries. 
"Your chest points downwards and sometimes your nipples aren't in the correct position. So it is your own responsibility to exercise, work out your pectoral muscles. After my final surgery, I began going to the gym," Melzer told the Telegraph. "And I trained hard. Fitness has always been an important part of my life but, now it took on a whole new level of importance. After working out constantly for two years, I entered the Men's Health cover competition — and won the wild card slot to the final."
Melzer may be making history in Europe, but he's not the first trans model ever to hit the cover of a men's fitness magazine. Last summer, 28-year-old Aydian Dowling appeared on a special edition cover of Men's Health in the U.S., after becoming a finalist in the magazine's "ultimate guy" competition.