We Don't Deserve Lin-Manuel Miranda Freestyling With President Obama at the White House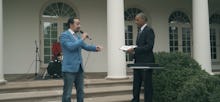 Hamilton composer and star Lin-Manuel Miranda brought his cast to the White House Monday to perform a few numbers in the East Room, or the "room where it happens." In that same room, seven years ago, Miranda first publicly performed a song from what was then titled The Hamilton Mixtape at a White House poetry slam.
The real treat for Hamilton fans and newbies alike, however, was this freestyle in the Rose Garden, which featured President Barack Obama holding up cue cards for Miranda to rap about. "Constitution," "POTUS," "opportunity," "NASA," "Obamacare" — it's all there. As Obama says at the end, after they literally drop the mic, "That's going viral."
Predictably, Twitter was bursting with some top-notch tweets with everything from a recap of Obama's banner week...
... to a few other gems from bold-faced names:
There was some well-deserved gushing from Hamilton diehards:
And at least one Twitter user with a question probably on many people's minds right now:
To the haters — yes, they existed — we offer only this: 
We're laughin' in the face of casualties and sorrow.