This Native American Actress' Powerful Lenny Piece Takes on Hollywood Racism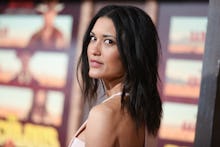 In April, a dozen Native American actors walked off the set of the Ridiculous 6, a forthcoming Adam Sandler film, due to offensive and insensitive stereotyping of their already underrepresented race — for example, female Native characters were named Beaver's Breath and No Bra.
Julia Jones, one of the Native American stars of the film, was not one of them. 
Read more: #OscarsSoWhite Exposes Oscars' Lack of Diversity in The Best Way Possible
In her powerful op-ed in Tuesday's edition of Lenny, Lena Dunham's newsletter, Jones shines a necessary spotlight on the racism that indigenous actors like her face — and her decision to stay on set rather protest with her fellow Native American cast members.
Jones describes the experience of working on the controversial comedy as bittersweet: She was happy to see Native American roles in Hollywood but was dismayed at the offense it caused some of her colleagues. 
"Some light was shed at a party the other night," Jones wrote in the op-ed. "I met an established comedy writer who said, 'I'm excited to see the Ridiculous 6, but every writers' room knows that you can't do three things: say 'fag' or 'retard' and write about Native Americans. I mean, what did they expect?'" And that pretty much sums up the problem her people face, Jones noted. 
The problem is "systemic, the result of a history of genocide, marginalization, injustice and disrespect," she added. "And because it is not often reported or represented accurately by Hollywood or in the media, mainstream America seems not to be aware of the extent of the abuse or of its lingering and very active residual effects."
Diversity — or lack thereof — remains a pervasive problem in Hollywood, from the #OscarsSoWhite controversy to the dearth of roles for people of color. However, it has become an increasingly public issue, featuring prominently in Chris Rocks' opening monologue while he hosted the Academy Awards, for example. And the ubiquity of addressing this problem in and of itself indicates the tide might be shifting.