Zendaya Gets Real About the Problem With Cultural Appropriation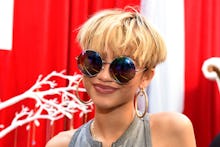 At this point, Zendaya is a certified pro at shutting shit down. 
Over the past year, the 19-year-old singer and actress has become the queen of the clapback, sharply and eloquently firing back any anyone who tries to criticize her hair, her parents, her body or even other women on the internet.
Read more: Zendaya Fires Back at Comedian Julie Klausner for Skinny-Shaming Her on Twitter
Now, in a new interview with PopSugar, she's setting the record straight for all those people who decided that braids and cornrows were the "hot new trend."
"Well, first of all, braids are not new," she said. "Black women have been wearing braids for a very long time, and that's another part of the frustration. We've been using that as a protective style, as a hairstyle. That's been in our culture and our community for a very long time. So it's not this new, fresh, fun thing."
Where the problem really arises for her, she says, is that braids and cornrows only became a "cool trend" when women who aren't black (hello, Kim Kardashian West) started wearing them.
"Another problem is it became new and fresh and fun, because it was on someone else other than a black woman," she said. "You know what I mean? So that is the frustration. That's where the culture appropriation element comes into play."
Later in the interview, Zendaya also offered a bit of advice to the people who have recently been donning styles typically associated with cultures that aren't their own. Basically: Please don't.
"I would be careful, I would definitely be careful," she said. "I don't know if there is an appropriate way."
This isn't even the first time she's had to speak about cultural appropriation. In August, she spoke to Nylon about it as well, saying, "You can go about it as cultural appreciation or cultural appropriation."
How to know when you're "appreciating" rather than appropriating? From her perspective, "Some things are really sacred and important to other cultures, so you have to be aware, politically, about those things before you just adopt them." A great example of doing this: Rihanna's dress at the 2015 Met Gala. 
Thanks to folks like Zendaya, cultural appropriation in fashion and beauty being examined for its ignorance to history and not just as a trend.