London's Pigeons Are Now Equipped With GPS and Devices to Monitor the City's Air Quality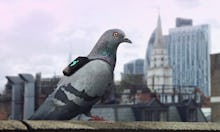 For many city-dwellers, pigeons have a reputation as repugnant creatures — "rats with wings," if you will — but in London, a handful of them are doing their part to tackle the city's air pollution levels, which had exceeded the annual allowed pollution levels for the city by the end of the first week of 2016.
Birds equipped with tiny pollution sensor backpacks and GPS devices took off on a three-day flight over the U.K. capital on Monday to monitor air quality, the Guardian reported. People can stay updated on the pigeons' findings by following the flock's Twitter page, @PigeonAir. 
Read more: We're Going to Have to Work Twice as Hard to Contain Global Warming — But It's Worth It
Pigeon expert Brian Woodhouse sent the patrol on its way as part of a project by marketing agency DigitasLBI to increase pollution awareness. 
"It is a scandal. It is a health and environmental scandal for humans – and pigeons," DigitasLBI creative director Pierre Duquesnoy told the Guardian. "We're making the invisible visible."
They're taking a break, OK?
"Most of the time when we talk about pollution people think about Beijing or other places, but there are some days in the year when pollution was higher and more toxic in London than Beijing, that's the reality," he added, referring to China's recent such crises. 
The crew is made up of several birds with super hip names names including Coco, "the maverick"; Julius, "the hipster"; and Norbert, "the intellectual." 
"There's something about taking what is seen as a flying rat and reversing that into something quite positive," Duquesnoy said.