Drag Queen Phi Phi O'Hara Recreates '90s Cartoons and It's Dazzling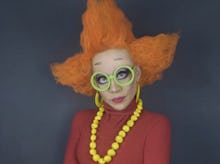 Drag queen, artist and chameleon extraordinaire Phi Phi O'Hara is in the throes of an epic exercise in the art of imitation. Using the hashtag #365DaysOfDrag, the artist is chronicling her project on Instagram, and so far the product is breathtaking. There are no boundaries to what this #365DaysOfDrag has produced to date, as O'Hara uses fabrics, makeup, wigs, and above all, ingenuity to test the limits of costume art — to dazzling effect. 
"Never let others define who you are," O'Hara wrote in one post to Instagram that perhaps lends deeper meaning to the undertaking. "You are the creator of your own definition. Everyday you wake up is another day to re-define yourself."
As part of the year-long project, O'Hara limited her subject matter for a time to iconic cartoon characters of the '90s. Daria makes an appearance, as do characters from the Rugrats, the Animaniacs, the Powerpuff Girls and Aaahh!!! Real Monsters.
Here are just a few of the artist's best '90s cartoon looks:
"The '90s Series!" the artist wrote in one post to Instagram "So much fun doing these and so happy with the love and appreciation for them! I will do a part two of the '90s in the future for all the characters I missed."
Brace yourself for more glitter-laced nostalgia because O'Hara is on a roll. 
Read more: Marc Jacobs' Latest Womenswear Model Is a "RuPaul's Drag Race" Queen