Kanye West, Mumford and Sons and Ellie Goulding Creating Fan-Inspired Global Citizen Album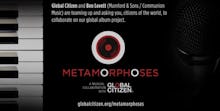 If you've ever dreamt of working with global superstars on creating their next club anthem or radio hit, now is your chance. Global Citizen, an organization fighting poverty and inequality around the world, is teaming up with Ben Lovett of Mumford & Sons, as well as rapper Kanye West and several other world-famous hitmakers to produce a new collaborative album titled Metamorphoses, the Associated Press reported Tuesday morning. The album will include British pop superstar Ellie Goulding, as well as the alternative rock band The National, comprising a total of twelve original tracks.
Lovett explains how exactly fans can collaborate with their favorites on the forthcoming project in a video uploaded to YouTube.  "Metamorphoses will transform your thoughts and feelings into music," he explains. "The words can be anything, as long as they're original. So far we've had stories, poems, a couple of one-line reflections, even a wedding speech. All languages are welcome, and all subject material too."
Read more: 7 Charts Show How Drastically Kanye West's Music Has Evolved
Anyone can submit lyrics to the Metamorphoses album by heading over to the Global Citizen website and entering submissions by March 31. An interactive map shows submissions have already sprouted across the globe for the upcoming album, set to be released in the fall, according to the AP. 
When the musicians have stopped accepting new submissions, they will piece together some of the chosen lyrics and collaborate on new, original music for the album.
"Everyone knows that music is a powerful force that for thousands of years has inspired change, given hope, and provided healing to people," Lovett says . "In my opinion it is the purest form of communication, as the subtleties of tone and pitch alongside words and lyrics, allow for a subtlety and precision in expression that we are yet to define solely in our respective languages ... And you'd be surprised, often by being most honest and most personal, though it may not seem relevant to others, we find ourselves being the most relevant."