'Fast and Furious 8': Horse Near the Set in Iceland Reportedly Killed by Prop Iceberg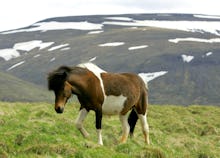 The most high-octane action movies, unsurprisingly, have daring stunts, and safety on set is important. Unfortunately, accidents still happen, and during filming of the forthcoming installment of the Fast and Furious series, Fast 8, a horse was reportedly killed in Iceland. 
A plastic iceberg being used in the film struck the horse, Jupiter, in the leg after gale force winds sent the prop into the paddock where the animal was grazing, according to TMZ. With the leg broken, the horse — which was not part of the Fast 8 production — had to be euthanized. Another horse was injured from the incident, but it's expected to recover. 
Fast 8 is filming some of its scenes in Iceland, where they are purportedly planning the largest man-made explosion in the country. If recent Instagram posts are any indication, there is a car chase scene also set on the icy surface of Lake Mývatn. 
The death of Jupiter, sadly, isn't the franchise's first encounter with death. While filming Furious 7, actor Paul Walker was killed in a car crash off set. As a result, the film changed its initial ending, instead going for a touching tribute for the much-beloved actor, coupled with the chart-topping single, "See You Again." 
Read more: The Story of How Paul Walker's Legacy Is Being Remembered Will Make You Miss Him Even More