'Star Wars: Trials on Tatooine' VR Game to Feature Motion-Controlled Lightsabers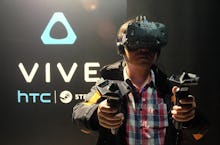 After a few leaked screenshots of a trailer for the upcoming Star Wars: Trials on Tatooine a "cinematic virtual reality experiment," stirred up Twitter buzz Monday, the team behind the game officially released the 48-second trailer to YouTube.
The trailer suggests the user will be able to motion-control lightsabers. It opens with a shot of the Millennium Falcon in flight and includes shots of R2D2, storm troopers, blaster fire, a lightsaber battle, and Imperial ships. 
The VR game-experience is being designed for the HTC Vive VR system, which can be pre-ordered for $800. The Star Wars experience is being created by immersive entertainment lab ILMxLAB and sound effect company Skywalker Sound.
This isn't the first time we've gotten our hands on motion-controlled lightsabers. In December, Google released a free Star Wars Lightsaber Escape game that wirelessly connected players' smartphones to their computers, allowing them to use their phone as a Jedi lightsaber to fight off stormtroopers. 
Read more: 'Star Wars: Episode VIII': Here's What We Know So Far