'The Revenant' Used $0 of Its $135M to Pay or Credit the Woman Whose Voiceover It Featured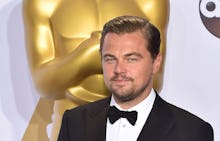 Actor Leonardo DiCaprio may have finally gotten his due this year, but a woman featured in The Revenant is still waiting for hers.
According to the Alaska Dispatch News, Doreen Nutaaq Simmonds, whose voice was used in the film, not only had no idea the recording would be featured in The Revenant but has yet to receive any screen credit or compensation for her role.
Simmonds can be heard reciting poetry in the Inupiaq language of Arctic Alaska during a scene in which Hikuc, played by Native American actor Arthur Redcloud, constructs a shelter for Hugh Glass (DiCaprio). Simmonds said her son recognized her voice when they were watching the film for the first time.
"I was so engrossed in what the Indian was doing, that I hadn't paid attention," Simmonds told the Dispatch News. "But then I started listening more closely. My son said, 'That's you, Mom.' That's when my ears opened."
According to Simmonds, she made the recording 27 years ago and doesn't recall the terms and conditions of the agreement she signed. A representative from 20th Century Fox told the Guardian that they had indeed secured the rights to the recording, originally a musical track, from John Luther Adams and New World Records. 
In DiCaprio's Golden Globes acceptance speech for best actor, he gave a shout-out to the world's indigenous communities. 
"It is time we that recognize your history and that we protect your indigenous lands from corporate interests and people that are out there to exploit them. It is time that we heard your voice... ."
Well, this would be a good place to start.
Read more: Native American Musicians Stand Up to Stereotypes in This MTV Documentary