Madonna Calls Backlash for Her "Tears of a Clown" Performance in Australia Sexist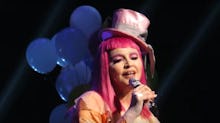 Madonna has taken to Instagram to defend Tears of a Clown amid what she described as "sexist" accusations that she had performed under the influence of alcohol. Tears of a Clown was a free one-off show she performed on March 10 in Melbourne, Australia, during the last leg of Madonna's Rebel Heart tour.
On Instagram, Madonna posted a screenshot of a fan's Facebook post supporting her and criticizing her depiction in the media. Madonna annotated the screenshot with accusations of her own, saying allegations that she was drunk or high on stage in Melbourne were unfounded and had an underlying tone of sexism.
"Thanks for supporting me. Too bad people don't know the art of acting and playing a character. I could never do any of my shows high or drunk," she wrote. "And yes underlying all of this is sexism and mysongony which proves that not only do we not get equal pay but we are still treated like heretics if we step out of line and think outside the box! Sexism is alive and kicking but i am #livingforlove."
The Sydney Morning Herald's Ebony Bowden described the show as a "mixture of comedy, music and storytelling," as well as an endurance test since Madonna was nearly four hours late to the stage. Punctuality aside, reviews for the show were polarizing due to Madonna's peculiar behavior; "The singer explained to fans the show was 'a work in progress' before fluffing several lines and abruptly stopping one song so she could have a second crack at the number," Bowden reported.
Of course, Madonna isn't the first female singer to be targeted with sexist accusations. Even Adele has had to contend with patronizing remarks within the industry despite her commercial success.
Here are photos of Madonna from last week's show in Melbourne: 
(h/t NME)
March 15, 2016, 1:26 p.m. EDT: This story has been updated.
Read more: Reaction to Kesha's Rape Allegations Prove Sexism Is Alive in Music — Look at Chris Brown