This Open Letter From Asian Oscar Winners Is the Perfect Takedown of the Oscars' Racism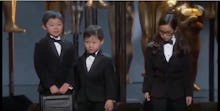 While Chris Rock had a strong showing as the host of the Oscars following the #OscarsSoWhite controversy, and his monologue spoke on the deep-seated racism of the academy, the comedian also had a glaring misstep — specifically, when he played up Asian stereotypes. In response, two dozen members of the Academy of Motion Picture Arts & Sciences have sent a letter to the board to ensure future Oscars broadcasts will avoid the "tone-deaf approach" exhibited by Rock. 
The letter — headlined by two-time Oscar-winning director Ang Lee — was sent to the board ahead of their Tuesday meeting to discuss, among other things, growing diversity within the group (unsurprisingly, the academy has a glaring diversity issue in their ranks as well). Variety reports that Asians are "estimated to represent less than 1% of the academy." 
Part of the open letter read, "We'd like to know how such tasteless and offensive skits could have happened and what process you have in place to preclude such unconscious or outright bias and racism toward any group in future Oscars telecasts. We look forward to hearing from you about this matter and about the concrete steps to ensure that all people are portrayed with dignity and respect." 
Rock's horribly timed and insensitive joke about Asian people — the instigator for the open letter — made light of Asian math proficiency and their exploitation in cheap labor industries. 
Update: In response to the open letter, the AMPAS has apologized for the insensitive Asian jokes from this year's Oscars, with an academy spokesperson issuing the following statement. 
"The Academy appreciates the concerns stated, and regrets that any aspect of the Oscar telecast was offensive. We are committed to doing our best to ensure that material in future shows be more culturally sensitive."
March 15, 2016: 4:33 p.m. EDT: This story has been updated to reflect the Academy's statement.   
h/t Variety 
Read more: 2016 Oscars Were Somehow the Blackest of All Time — But Chris Rock Failed in One Key Way