Rising Sea Levels Could Displace 13 Million People in the US by 2100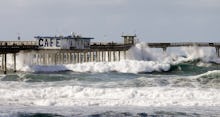 Millions of people living in U.S. coastal cities could be displaced soon, due to rising sea levels, the New York Times reports. A new study published on Monday by Nature Climate Change has estimated that 4.2 million would be affected should sea levels rise three feet. In a more alarming projection, 13.1 million would be affected should sea levels rise six feet by the year 2100.
The estimation was derived by factoring in data from the National Oceanic and Atmospheric Administration with population estimates.
"We could see a huge-scale migration if we don't deploy any protection against sea level rise," said Mathew E. Hauer, a doctoral student studying geography at the University of Georgia, and one of the authors in the study. Furthermore, the subsequent mass migration inland, should the seas rise six feet, would be a costly ordeal at an estimated $14 trillion dollars.
Hauer said he hoped the study would contribute to policy, particularly since the bulk of the problem is gas emissions stemming from the burning of fossil fuels. Sea levels may be rising at the fastest rates of the last 28 centuries, according to the New York Times, and many coastal cities like Charleston, South Carolina, and Norfolk, Virginia, are already bogged down by coastal flooding. 
Read more: We're Going to Have to Work Twice as Hard to Contain Global Warming — But It's Worth It