Gwen Stefani on Her Breakup From Gavin Rossdale: "I Was Literally Dead, Like Panicking"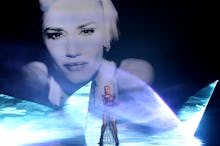 Anyone who's been through the throes of a breakup understands just how emotional and heartbreaking the experience can be — even international pop stars like Gwen Stefani have their hearts broken. The singer-songwriter opened up about her divorce from fellow musician Gavin Rossdale in an interview with USA Today ahead of the release of her first solo album in over a decade: This Is What the Truth Feels Like. It seems Stefani can truly put the turmoil that people feel during a breakup into words.
"I was dead. I was literally dead, like panicking – like anyone would be," Stefani told USA Today. The singer also explained that divorce isn't typical in her family history, and she had to force herself to find her happiness. "My parents have been together since high school, as have my brother and sister-in-law, but I understand that everybody has good and bad things happen," she said in another segment of the USA Today interview.
Read more: Gwen Stefani Has Been Quietly Making One of the Year's Most Empowered Returns to Music
After officially divorcing the father of her three children, Stefani needed to find new pursuits to set her on an upward trajectory. "I'm gonna have to believe this is happening because I'm supposed to do this and help people in some way," she told USA Today. "It's a small thing, in a way, but music is so powerful it really does help people."
With a forthcoming album expected to be a critical success, as well as her role as an adviser on NBC's hit singing competition show The Voice, it's safe to say Stefani found her purpose after her breakup. 
"It was the first time in my career that I did something that was on the outside of being all about me, you know what I mean?" She told USA Today. "[It feels] very motherly to be a coach, to be able to look back at what I [have] done. It kind of brought back my confidence."
Sure, Stefani has forced herself back into the spotlight, and she is managing to balance her home life with her career: a vital aspect to recovering from heartbreak. Still, her new professional and musical endeavors aren't the only things making her smile from ear to ear — the former Voice coach is dating her fellow TV personality and country music star Blake Shelton, who's currently a judge on the reality show. 
Stefani admits to USA Today it was somewhat intimidating after her divorce "to sit with someone like the king of country and have country artists and try to put my two cents in. And with the added layer that we're in a different place together. But it was really super-fun."
It's as if Stefani has nailed the art of the breakup: go through the roller coaster of emotions, throw yourself back into your work, family and passions, then recover by being stronger (and happier) than ever before.