This Horse Is Wearing a Full-On 3-Piece Tweed Suit and He Looks Great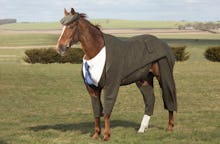 Meet Morestead. He is a horse, and he is also wearing a custom-made tweed suit, because why not? The suit is, believe it or not, "the world's first Harris Tweed suit designed specifically for a race horse," according to a statement released on Monday.
Read: Something Surprising Happens in Your Brain When You Look at Your Dog
Morestead will have the honor of modeling the special suit at the Cheltenham Festival, an annual horse race in Cheltenham, U.K. The tweed suit (complete with a little hat) was specially commissioned and made by designer Emma Sandham-King, who spent four weeks creating the giant suit.
Morestead's outfit used more than 18 meters of "genuine tweed shipped from the Isle of Harris," that's "10 times as much fabric as an equivalent human suit," according to Sandham-King. 
The designer also had the distinct pleasure of working with Morestead the horse while she worked on his tweed suit, and said in a statement, "Some models can be real divas, but veteran racing horse Morestead was calm and a pleasure to work with."
Champion jockey Sir Anthony McCoy modeled tweed alongside Morestead, but who even cares about a human wearing a suit when there's a horse wearing a suit RIGHT THERE?
Morestead apparently had no comment regarding his historic tweed suit, but, if he could talk, we have a feeling he'd ask why the suit was designed with pockets. Seriously, what would a horse do with pockets?