Mural of Kim Kardashian West's Nude Selfie Defaced With the Word "Slut"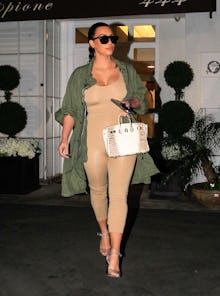 Well, that was cool while it lasted. A self-described "social media activist, vegan, intersectional feminist, bachelor of gender studies, wealthy industrialist and philanthropist" painted a 30-foot mural of Kim Kardashian West's controversial nude Twitter selfie on a brick wall in Melbourne, Australia. But it was defaced and slut-shamed after less than two days. 
"Andddd this is why we can't have nice things @kimkardashian," the artist, Lush Sux, captioned a picture displaying the defaced painting covered in brown and white splattered paint and "slut" written in all caps across the crotch area. 
Read more: The World Is Finally Getting the Kim Kardashian West Connect-the-Dots Book We Deserve
The artist posted an epic pre-defamation picture of his friend posing naked (censored) in front of the mural Monday captioned "Is this the real life..." No, no it's not. 
The artist, who also goes by Mark Walls, told the Huffington Post the mural took "as long as it took Kardashian West to get 100,000 comments on the original photo of herself in the nude." So like, negative 5 seconds. 
Melbourne locals weren't having it, according to Unilad, and aired their complaints on local radio stations, which could help explain the vandalism. Perhaps they're unaware of the anti-slut-shaming conversation the original selfie sparked among female celebrities including singer Demi Lovato, 14-year-old feminist Rowan Blanchard, Amber Rose and Kardashian West herself.
Kardashian West clapped back at her haters last week by sharing a past nude pic on Twitter captioned #liberated. She also wrote an open letter to the world asking us to kindly stop slut-shaming her nudes and move on from her now 13-year-old sex tape.