'Star Wars Episode VIII': Leaked Set Photos Feature Some Formal Alien Wear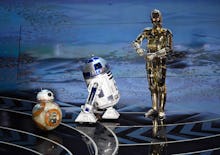 Though the release date was delayed — much to the dismay of Star Wars fans everywhere — director Rian Johnson and the rest of the crew for Star Wars: Episode VIII have begun filming for the follow up to the record-breaking The Force Awakens. 
Episode VIII's production is currently in Dubrovnik, Croatia, and some stealthy fans have taken some photos from the set. While it's hard to access what they mean for the film's narrative, it does present new images of ships and aliens. Most notably, the aliens are wearing formal cloaks and cummerbunds — which, naturally, draws parallels to the gubernatorial backdrop on Coruscant in the prequel trilogy. 
Episode VIII is set for a December 2017 release. 
Read more: 'Star Wars: Episode VIII': Here's What We Know So Far