Marijuana May Be Good For Your Skin, But Smoking Is Not — That's Where Vapes Come In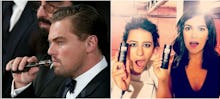 There's delightful news for the health-conscious cannabis users: Studies have found that using cannabis could be good for your skin, due to THC's anti-inflammatory and antioxidant properties. While these THC attributes can be introduced to the body through topicals like "kush cream," for those looking to reap pot's other key benefit — aka getting high — they've long been forced to smoke their weed.
The problem: "Any form of smoking leads to premature signs of aging, deep wrinkles, bags under the eyes and dull, dehydrated skin," RealSelf contributor and dermatologist Dr. Joel Schlessinger told Mic.
Fret not, because that's where vaporizers may come in. These powerful, portable devices have been making appearances everywhere from Broad City to red carpets. And they may be a safer consumption method, as it is believed they may achieve the same skin-healing properties while reducing carcinogens created from combustion.  
"I absolutely think it's a better option without question," Dr. Wendy Zaharko, M.D., who specializes in medical marijuana, told Mic. 
Cannabis smoke has been found to be safer than tobacco smoke, however like tobacco smoke, you could be exposing yourself to hydrocarbons that can inhibit new collagen production. Collagen is a crucial protein that holds our skin together, giving it elasticity.
Vaporizers, on the other hand, create no smoke at all, thus eliminating these concerns. They work by heating up herbs, cannabis or tobacco without creating combustion. Therefore you "sip" on the vapor of the boiled essential oils and experience a similar effect as smoking but with fewer harmful side effects. With cannabis, this means the THC and other cannabinoids are inhaled while harmful carcinogens and gases are not. Even beyond skin concerns, this is great news for those concerned about respiratory health. 
"As I started vaporizing, I really started noticing a drastic difference particularly in my health," Firefly vaporizer CTO and co-founder Sasha Robinson told Mic. "It's all connected."
Read more: Here Are the 4 Best Vapes for Under $50
While vaporizers are being celebrated for their health benefits, not everyone is ready to sign off on the trend, particularly for skin. "Since vaporizers are a newer technology, it's difficult to say what the long-term effects of prolonged use might be," said Dr. Schlessinger.
Some doctors agree. "Even if THC has anti-inflammatory and antioxidant properties, there are many other, safer ingredients that can offer these same benefits with clinically proven results," said Dr. Schlessinger. "It's better to rely on ingredients that are backed by plenty of research, so you can see achieve the best possible results."
As cannabis legalization continues its controversial crawl across America, there are going to be a lot of opposing viewpoints — especially as research produces more and more new developments. When looking for health and beauty benefits, all one can do is observe the research available and make the choice that's right for them. 
For this vain cannabis reporter, switching from joints to a vaporizer was a worthwhile beauty investment.