EPA Official Said Helping Flint, Michigan, Amid Water Crisis Woud Send Wrong Message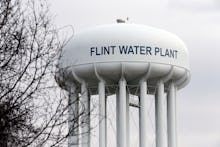 The Environmental Protection Agency tried very hard to look the other way as evidence mounted that the water supplies of Flint, Michigan, were contaminated with dangerous levels of lead and other harmful substances.
Internal EPA emails obtained by the House Oversight and Government Reform Committee show officials at the agency argued against using state money to resolve the crisis in September, even as investigators were reaching the conclusion Flint's water was hazardous to human health, Politico reports.
"I'm not so sure Flint is the community we want to go out on a limb for," EPA branch chief Debbie Baltazar wrote in one email. "At least without a better understanding of where all that money went."
Baltazar wrote further the EPA had concerns that helping Flint residents with in-home water filtration funded by the state would set a bad precedent for other communities that more "properly manage" their finances. Flint's use of water utility funds for other purposes, she wrote, were a key factor in the city's decision to stop buying uncontaminated water from the Detroit supply, and thus justified the choice to deny assistance.
Not all officials involved in the emails turned a blind eye to the contamination.
In another email, EPA water regulations manager Miguel Del Toral, who Mother Jones called a "hero" of the crisis, expressed concerns that the agency's priorities were out of order. "We spend more time trying to maintain state/local relationships than trying to protect the children," who, Del Toral said, "were being irreparably damaged."
"Are you kidding me?" committee chairman Rep. Jason Chaffetz (R-Utah) asked former EPA Region 5 director Susan Hedman during a recent hearing, reports the Washington Examiner. "Why isn't Flint the community they go to? Of all the communities, the community having trouble is the one you go all out for."
According to the New York Times, some experts estimate 8,000 or more children under the age of 6 were put at risk of lead poisoning due to the contamination.
h/t Politico