Beachgoers Climbed Atop This Dead Whale's Body for Their Instagram Photos in Indonesia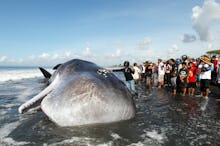 A dead sperm whale washed up on a beach in East Bali, Indonesia, this week. In the hours between when its body was discovered and when it was removed by local authorities, crowds of onlookers snapped pics with the giant animal. Some even climbed on top of the whale's body for their photo ops.
The whale's body, which measured over 16 meters in length, was discovered by two Balinese fishermen who were out catching lobsters on Batu Tumpeng Beach in Gelgel Village, local news site Coconuts Bali reported. The whale was reportedly dead when they found it.
Selfie-snappers weren't the only ones to pay attention to the whale, however. Some actually showed up to honor the animal. A Balinese priest reportedly came by to leave offerings for the whale's body.
An official from the local natural resource conservation body told Tribun Bali that the whale likely beached and died after being separated from the rest of its migratory group, Coconuts Bali reported. 
Since this whale was already dead when the Instagrammers arrived, the story is slightly less upsetting than the recent news of a baby dolphin that died on a beach in Argentina after being passed around for selfies.
Read more: Japanese Ship to Kill 333 Whales Per Year for "Research" — And the World Is Not Happy
Correction: March 15, 2016