Who Is Tara King? Henry Cavill's Girlfriend Is a 19-Year-Old University Student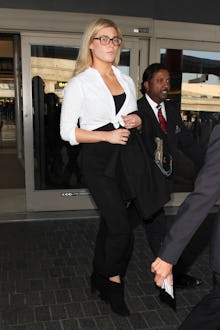 English actor Henry Cavill, 32, got defensive in a recent interview with U.K. publication the Sunday Times, saying it's disrespectful for fans to come onto him in front of his girlfriend. Cavill, who will star as Clark Kent a.k.a. Superman in the upcoming Batman v Superman: Dawn of Justice, is dating Tara King, a 19-year-old student at Bristol University. Cavill's upcoming action flick is scheduled for release on March 25 in the U.S.
"I've heard some things in my time, I have to say," Cavil told the Sunday Times, of being hit on. "I'd best not say what. I don't mind it — not unless I'm with my girlfriend and someone is being complimentary to me in order to disrespect her. People who don't respect other people's feelings really get my goat."
Read more: Which Superheroes Will Appear in 'Batman v. Superman'? Quite a Few, Actually
Little is known about King, and the two have made limited public appearances to date — though one of those appearances included walking the red carpet together at the Vanity Fair Oscar party in February. The couple also made headlines last October, after they were spotted together at the Rugby World Cup in October, where England played Australia. 
According to an interview with Elle UK, Cavil's not bothered by the age gap. 
"People say, 'Age is just a number.' A lot of times it's not just a number. It's actually a real and true sign of someone's maturity," Cavill told Elle UK in the interview, which was published online on Feb. 18. "But in this case, she's fantastic."
Cavill will star alongside a number of big-name actors in Batman v Superman: Dawn of Justice, among them Gal Gadot, Amy Adams, Jesse Eisenberg, Jeffrey Dean Morgan and Ben Affleck.