The DNA Results for Knife Found Buried on OJ Simpson's Estate Are in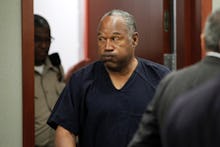 Another break came for O.J. Simpson after a knife found buried in the backyard of his former estate and reportedly containing DNA fragments was turned over to police earlier this month. Test results indicate no information or DNA evidence could be derived from the handle or blade of the knife as soil in the ground where the knife was originally discovered depleted any trace of human contact, TMZ reported Tuesday.
The LAPD opened an investigation into the newly discovered knife after a retired cop who was off-duty when a construction worker near Simpson's yard handed him the knife. The officer originally planned on keeping the weapon after his January retirement from the force, and had kept it in his house possibly since 1998. 
Read more: Knife Found Buried on OJ Simpson's Estate Years Ago Finally Turned Over to LAPD
What's more, TMZ suggested Tuesday no other leads could be found in the Los Angeles Police Department's investigation into the knife, including any possible hair samples. The LAPD released a statement reporting the lead investigator has yet to receive such information from the lab, though TMZ originally broke the story of the five inch blade being discovered before the police force commented on the matter, as Mic previously reported. 
Though the tests might have been inconclusive in finding any DNA samples, the knife is the first discovery of possible new evidence in the O.J. Simpson trial since the case ended in 1995. It comes right as FX's critically successful The People v. O.J. Simpson: American Crime Story is airing.