'Sausage Party,' Seth Rogen's Upcoming Animated Comedy, Is Literal Food Porn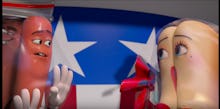 Seth Rogen is a sausage and Kristen Wiig is a hot dog bun — and they're madly in love. That sets the tone for Rogen's upcoming animated comedy, Sausage Party, which can effectively be described as literal food porn, per the reaction to the film's screening at SXSW. 
Though critics noted the film is still a "work in progress" with regard to the animation process, Sausage Party still made waves — and shocks — at the festival with its raunchy, suggestive food puns and absurd overarching narrative. Without giving too much away, here's what to expect from Sausage Party.  
Read more: Bud Light Super Bowl 2016 Ad Replaces Puppies With Amy Schumer and Seth Rogen
The initial setting for Sausage Party is a grocery store, where Frank the hot dog (Rogen), is packaged next to Brenda the hot dog bun (Wiig) as they wait to be taken by "The Gods" (shoppers) to whisk them away to a presumed Valhalla. Wiig and Rogen's food pairing exudes the same sexual maturity expected from horny teenagers. 
"The dirty talk comes on fast — insert every dick/sausage joke possible — and the bun even points out how, um, tight she is, because she hasn't been, um, opened up yet," Kristen Yoonsoo Kim wrote for Complex. "I'm not sure when the first gasp came in, but the whole screening became a series of increasingly louder gasps and even louder, howling laughter." 
Of course, their expected utopia masks a terrifying truth: They're going to be eaten. The trailer shows a potato being skinned alive, and "baby" carrots being devoured in a kitchen. Moreover, Sausage Party uses cultural stereotypes for the different foods presented in the film — including a Woody Allen-sounding bagel voiced by Edward Norton and a pita named Vash who wants to go to a heaven filled with "70,000 bottles of virgin olive oil."  
"It's childish stuff, but flagrant enough to easily offend, and it will be interesting to see how audiences react when it finally hits the general population," Michael Roffman wrote for Consequence of Sound. "At the same time, Rogen and [screenwriter Evan] Goldberg don't exactly leave anyone out, so it's more or less a vacuum of stereotypes coalescing." 
However, it's in the final, hyper-sexualized act that Sausage Party turns into food porn, with a "brand of sexual depravity that would bother regulars at Pornhub," Roffman wrote. 
Yes, it's graphic. 
"At one point you will see a turnip blowing a radish, and that won't be anywhere close to the most insane thing that happens," Jada Yuan wrote for Vulture. "Rogen is true to his word that there is plenty of food-on-food sex, and the MPAA has given its stamp of approval." 
Viewers of the SXSW screening had similar reactions on Twitter, comparing the film to a food-filled film with Deadpool's level of absurdity and features the best animated raunchiness since the South Park movie. 
Check out the ridiculous, NSFW trailer for Sausage Party, which will be released on Aug. 12.