John Kasich Wins 2016 Ohio Republican Primary, Defeating Donald Trump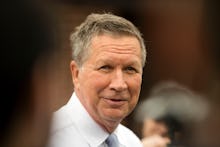 The Buckeye State bucked the trend.
Ohio Gov. John Kasich defeated frontrunner Donald Trump in Tuesday's pivotal primary, capturing all 66 of the state's delegates.
The Associated Press called the race for Kasich at 8:54 p.m.
The winner-take-all victory neither derailed Trump's chance to capture the nomination nor made Kasich a credible threat.
But it spared the governor a humiliating home state loss of the kind weathered in Florida by Marco Rubio, allowing Kasich to claim victory in a battleground state and attempt to build a storyline around proving he's a contender.
Kasich called his state's vote a repudiation of the overheated rhetoric that's frayed his party during a bitter primary cycle dominated by the bombastic Trump.
"You came to Ohio, you threw everything you had at me and guess what, it didn't work because we know that we need to unite this country and be Americans and not spend our time dividing people in this country," Kasich told CNN.
"I'm going to get in a covered wagon and hope for a big breeze ... This is the little engine that can," Kasich told CNN ahead of his victory speech in Berea, Ohio.
"I may go to the convention before this is over with more delegates than anyone else," said Kasich, who's also a former member of Congress, leaning into a message of unity over division.
Tight Contest: Coming into the Buckeye State contest, polls showed Kasich slightly ahead of Trump or tied with him, per tracking by RealClearPolitics.
"We're going to win Ohio," Kasich said on Good Morning America as Ohioans prepared to head to the polls.
"We have to win."
Trump, characteristically, kept up a barrage of Twitter attacks against Kasich as voters headed to the polls in Ohio, a state heavily populated by working class whites. 
The frontrunner's intensity in going after Kasich — who has fielded relatively few Trump barbs compared to rivals Ted Cruz and Marco Rubio — sharply highlighted the value of a state no Republican has ever won the White House without: 
That last point matters: Although Kasich carried the day in Ohio, Trump came into Tuesday with 463 of the 1,237 delegates required for the nomination. 
Kasich — who, as Trump noted, had not yet carried a single primary or caucus outright — had earned just 63 delegates.
In the run-up to the day's voting, Kasich sought to remind Ohioans of his work as their chief executive to improve the job market and education.
Via social media, he framed himself as a "Reagan conservative." He played up the above-the-fray, adult-in-the-room image he's cultivated throughout his longshot bid.
Speaking to reporters in Westerville earlier Tuesday, Kasich called himself proud of having run a positive campaign — but made clear voters could soon expect him to draw sharper contrasts with Trump's tone and record.
"I just saw a commercial ... of these comments that were made about women. I have two daughters. They see this stuff," Kasich said, referring to a super PAC-funded ad that features women reeling off some of Trump's most sexist quotes. "What do you think they think? We'll have more to say about that."
Ohio and the nation: Census data culled from 2014 reports shows Ohio's voting-age population is overwhelmingly white at 83.2%. For the country at large, that number is 66.3%. 
Ohio is about on par with the rest of the country in terms of the number of African-Americans of voting age — between 12% and 13% — but is home to dramatically fewer voting-age Latinos. They account for less than three percent of the potential Ohio electorate, versus about 15% nationwide. 
The state's poverty rate mirrors the nation's at slightly under 14%, and the median household income came in at about $4,000 less than the national median of $53,657.