'Women's Running' Magazine Has a Full-Figured Model on the Cover – and She's Fit AF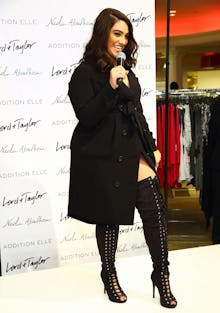 Women's fitness and beauty magazines have long equated running with thinness. Believe it or not, there are full-figured women who run regularly. Women's Running magazine finally admitted that by featuring "plus-size" model Nadia Aboulhosn jogging on its April 2016 issue. 
"How fashion designer/blogger/runner Nadia Aboulhosn makes running look this good," the issue's cover reads alongside a photograph of Aboulhosn getting after it on an outdoor run. Aboulhosn told BuzzFeed she runs three to four times per week. 
Although others may categorize her as a plus-size model, Aboulhosn told BuzzFeed she avoids that label because she thinks it "creates a binary where one type of body is considered 'normal' or 'standard,' and anyone who is bigger than that is considered not normal."
Aboulhosn's message is that you can't tell how fit someone is by looking at them. "It's because society sees fit people as being smaller," she said. "People don't think my body type is healthy." 
The model has received overwhelming praise on Twitter since sharing the cover Monday. 
Read more: Victoria's Secret Swim Special Misses Out On Prime Opportunity to Feature Plus-Size Models