Saudi Arabia Is a Place Where Women Can't Drive — These Women Just Landed a Plane There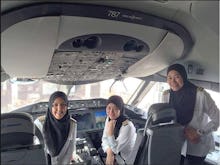 Feb. 23 marked a day of two big firsts — but chances are you entirely missed them both. For one, it marked the first time time a women-only flight deck for Royal Brunei Airlines flew a flight. And it was the first time women drove in Saudi Arabia without technically violating the ban — except they were driving a plane instead of a car. 
Captain Sharifah Czarena Surainy, and Senior First Officers Dk Nadiah Pg Khashiem and Sariana Nordin operated the 10-and-a-half hour flight from Brunei to Jeddah, Saudi Arabia.
Read more: Women Are Being Banned From This Starbucks in Saudi Arabia 
Adding significance to the endeavor is the fact that both countries' official religion is Sunni Islam, some interpretations of which limit the rights of women.
"Being a pilot, people normally see it as being a male dominant occupation," Surainy told the Brunei Times in 2012. "As a woman, a Bruneian woman, it is such a great achievement."
"It's really showing the younger generation or the girls especially that whatever they dream of, they can achieve it," she added.
Surainy is no stranger to making feminist history. In 2012 she became the first woman to pilot a flag carrier in Southeast Asia.
Feminism is an integral part of RBI's company culture, which encourages women to apply for its engineering apprenticeship via social media outreach.
"Who says engineering is a men's only profession?" Royal Brunei Airlines posted to its Instagram account next to a photo of its fleet of women engineers.
Preach on, ladies.